More Books by Frosty Wooldridge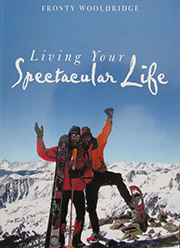 Living Your Spectacular Life, by Frosty Wooldridge, AuthorHouse (March 14, 2017), ISBN-10: 1524671541, ISBN-13: 978-1524671549.
"Once you read this book, you can't forget it. It plays with your mind in ways that move you toward discovering your own exciting path on your lifelong journey. Wooldridge offers you countless ordinary people living spectacular lives. What's more, he shows you their secrets and his secrets. Not secrets, actually! Each person shows you how to flip your mind toward living dynamically. Somewhere in the middle of the book, you begin to evolve your thinking. By the end, you're a changed person. And, there is no going back. You're in for a heck of a ride!"
    Review by Sandra Hamilton
Available from AuthorHouse (1-888-280-7715) and Amazon.com.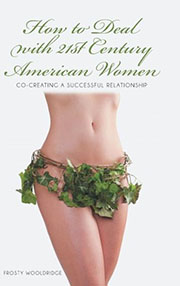 How to Deal with 21st Century American Women: Co-Creating a Successful Relationship, by Frosty Wooldridge; AuthorHouse (September 9, 2013). ISBN-10: 148174335X. ISBN-13: 978-1481743358.
I sit here flipping through the pages of How to Deal with 21st Century American Women, back to front, at a speed that would animate Mickey Mouse if he were drawn on every page. And I'm amazed. Because, you see, there are no such drawings; there are, instead, only my futile efforts to capture all the wisdom and BEST doses of clear logic and common sense contained in those pages by highlighting them with a fluorescent-yellow magic marker. Thus the title and thus the blinding yellow glare.
There is wisdom in this book, folks. Not the kind that comes from some new, multi-million dollar piece of research, but the kind we SHOULD already have and, instead -- through selfishness ,rationalization and pride -- ignore or relegate to some dark, unobtrusive corner of our mind. Well, Frosty makes these gems IMPOSSIBLE to ignore. Better yet, through charm and wit, he makes us determined to FOLLOW his and our own best advice. He makes us want to be more honest with ourselves!
I guess what I'm trying to say here is that Frosty makes common sense MAKE sense -- which is not to say there's any lack of new ideas, new perspectives here as well. There were dozens of times, while reading, that I actually placed the book in my lap, briefly, and thought, "Hmmmm, I never thought about it THAT way before."
With HOW to Deal with 21st Century American Women: Co-Creating a Successful Relationship we've been given the tools (and by the way, the book could just as easily have been titled HOW TO BE THE BEST, MOST FULFILLED 21st Century PERSON YOU CAN BE). What's more, we've been given the motivation, by one of the best motivational speakers and writers in the country. Now it is up to us; no excuses.
    Review by John Stchur
Available from AuthorHouse (1-888-280-7715)  and Amazon.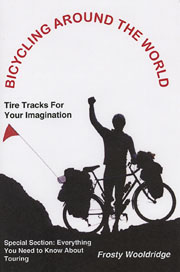 Bicycling Around The World, by Frosty Wooldridge; First Books, 2004. ISBN 1-4140-6382-2.
This book mesmerizes readers with animal stories that bring a smile to your face. It will pain your mind and heart seeing the Third World. It chills you with a once-in-a-lifetime ride in Antarctica where you'll meet a family of Emperor penguins. Along the way, you'll find out that you have to go without a mirror, sometimes, in order to see yourself. The greatest aspect of this book comes from--expectation! Not since 'Miles From Nowhere' has a writer captured the Zen and Art of Bicycle Adventure as well as Wooldridge. Not only that, you enjoy a final section-'EVERYTHING YOU NEED TO KNOW ABOUT LONG DISTANCE TOURING'. He shows you 'HOW TO LIVE THE DREAM'. You'll have the right bike, equipment, money and tools to ride into your own long distance touring adventures. If you like bicycling, you'll go wild reading this book. If you don't like bicycling, you'll still go wild reading this book.
Available from AuthorHouse (1-888-280-7715) and Amazon.com.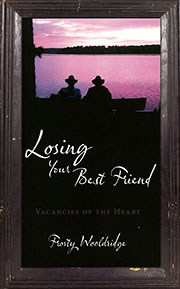 Losing Your Best Friend - Vacancies of the Heart, by Frosty Wooldridge; Author House, 2010, Paperback (5x8) $12.95 ISBN 9781449062224
"This is one heck of a powerful book! It's a must read for anyone that has lost a friend or parent. It will give you answers that you may not have thought about. It will touch your heart and you will learn from their experiences. It also shows you what you can do if you suffer conflict with your friend's wife or girlfriend."
     - Jonathan Runy
"A powerful self help book for a time of grief and longing... this author is really giving his readers a self help book, one which offers the experiences of so many, whether you are very young, in high school, in later life, or watching someone abuse himself or herself with alcohol or die in an unexpected accident."
     - Donald A. Collins
Available from AuthorHouse.com (1-888-280-7715) and Amazon.com.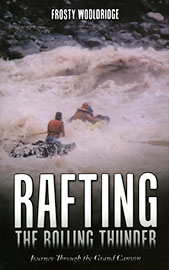 Rafting the Rolling Thunder: Journey Through the Grand Canyon, by Frosty Wooldridge; Author House, 2010, Paperback (5x8) $12.95 ISBN 9781434304681
"I am a long time ardent rafter--I've done the Stanislaus in a rubber Tahiti raft before that gorgeous river was ruined by the New Melones Dam, the South Fork of the American River which passes by Colonel Sutter's Mill location, the Middle Fork of the Salmon River, the largest wild river left in North America, and the famous Youghgheny Rivers' seven 3.5 rapids which can break your leg or drown you any day you try it.
Well, I must admit I have never done the rapids in the Colorado River, some of which are 5 in difficulty and now at 80 years old I guess I may not get there, although age has not kept me from much yet.
However, for those of you who have heard about this surging, screaming, sucking, sensation of a river, and may not be able to get there right now, there is a guy named Frosty Wooldridge who can take you there with the kind of vicarious thrill you get from the most action oriented movie. He will put you in his raft to feel, hear and squirm with delight all in the virtual safety and comfort of your Lazy Boy, very nearly experiencing what he describes so vividly.
This man has sought out more adventurous venues than most people now living. Biking around the planet, including across the USA 6 times, the latest the Summer of 2010, almost freezing at 18,000 feet in the Andes, and on and on, generally seeking out many other chances to test himself against elements of nature.
And for those who like the history, the geology, the natural beauty of hawks aloft, it's all described. The first American who wrote about this river rollercoaster ride was John Wesley Powell (1834-1902), who ran this river twice, when the Indians were hostile! He became the second Director of the US Geological Survey, then the founder of what is now The Cosmos Club in Washington, DC, whose members past and present are among our most famous scientists, writers, and leaders.
So you can really know when you read this page turner what "Rafting: The Rolling Thunder" of the Colorado feels like, looks like and thrills like! Don't miss your chance to get a truly insightful preview of that experience and then perhaps one day soon you can be like Frosty and his merry companions in doing the real thing! A wonderful read by a truly legitimate adventurer.
     - Donald A. Collins
Available from AuthorHouse.com (1-888-280-7715) and Amazon.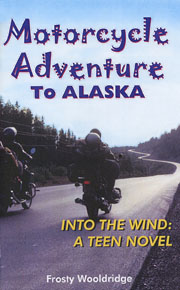 Motorcycle Adventure To Alaska, by Frosty Wooldridge; First Books. ISBN 1-4140-7207-4.
"Seldom does a book capture the fantasy and reality of an epic journey the magnitude of a 'MOTORCYCLE ADVENTURE TO ALASKA'. Trevor and Dan resemble another duo rich in America's history of youthful explorers who get into all kinds of trouble - Tom Sawyer and Huckleberry Finn. They plied the Mississippi River, but Dan and his brother push their machines into a wild and savage land--Alaska. My boys loved it."
    - John Mathews, father of two boys and a daughter.
Available from AuthorHouse (1-888-280-7715) and Amazon.com.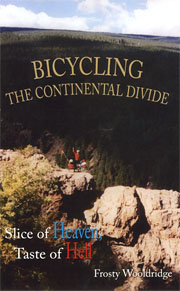 Bicycling the Continental Divide: Slice of Heaven, Taste of Hell, by Frosty Wooldridge; AuthorHouse. ISBN 978-1-4343-0456-8.
"This bicycle dream ride carries a bit of Tom Sawyer and Huckleberry Finn. The author mixes hope with adventure, pain with courage and bicycling with mountains. John Brown, a friend left behind to battle cancer, provides guts and heart for his two friends who ride into the teeth of nature's fury. Along the way, you'll laugh, cry and gain new appreciations while pondering the meaning of life."
Available from AuthorHouse (1-888-280-7715) and Amazon.com.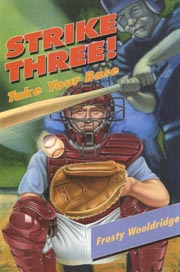 Strike Three! Take Your Base, by Frosty Wooldridge; The Brookfield Reader, Sterling, VA; 2001. ISBN 1-930093-01-2. To order this book, send $19.95 to Frosty Wooldridge, POB 207, Louisville, CO 80027.
This poignant story is important reading for every teen who has ever experienced the loss of a parent from either death or divorce.
This is the story of a boy losing his father and growing through his sense of pain and loss. It is the story of baseball - a game that was shared by both the boy and his father - and how baseball is much like life.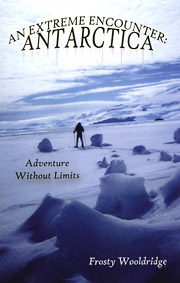 An Extreme Encounter, by Frosty Wooldridge; Authorhouse, 2005. ISBN 1-4259-0996-5.
"An Extreme Encounter" transports readers into the bowels of million year old glaciers, katabatic winds, to the tops of smoking volcanoes, scuba diving under the ice, wacky people, death, outlaw activities and rare moments where he meets penguins, whales, seals and Skua birds. Hang on to your seat belts--you're in for a wild ride where the bolt goes into the bottom of the world."
     - Sandy Colhoun, editor-in-chief, The Antarctic Sun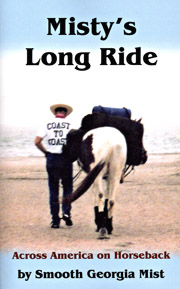 Misty's Long Ride, by Smooth Georgia Mist (Howard Wooldridge - Frosty Wooldridge's brother), AuthorHouse, 2005. ISBN 1-4208-5766-5 (sc).
 
"As good as Howard was, sometimes there was nothing he could do about our situation in the burning inferno of Utah. In that agonizing desert, a man's mouth became so dry, he couldn't spit. I felt the heat cook my hooves at ground level where it felt like walking alone in the middle of a farrier's furnace. Above us, vultures soared in the skies searching for road-kill. Yet, Howard pulled down the brim of his hat and pushed forward. I followed this cowboy because he was a Long Rider and I was his horse..."
For anyone who loves horses and high adventure - Howard's horse Misty tells one of the great adventure tales in the 21st century by galloping coast to coast across America. You'll enjoy horse sense, horse humor, unique characters and ride the wild wind.
Available from AuthorHouse (1-888-280-7715) and Amazon.com.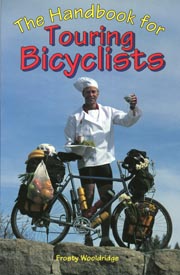 The Handbook for Touring Bicyclists by Frosty Wooldridge; Chockstone Press, Evergreen, CO; 1996. ISBN 1-57540-024-3.
Bicycling touring is growing in popularity each year. Men and women around the world are taking to the highways and the "open air" is their kitchen.
On the pages of this book, you'll discover how to buy, carry, prepare, and store food while on tour. Discover the 'ins and outs' with a "Bakers Dozen" of touring tips that are essential for successful bicycle adventuring. Whether you're going on a weekend ride, a week-long tour, or two years around the world, this handbook will help you learn the artistry of bicycling and cooking.