1950s Schwinn in bloom - Greeting card
Emerson said, "God laughs in flowers." On a bicycle journey across America, you pedal through, along and past billions of flowers of every color, shape and description. God's laughter speaks to your visual senses. If you hop off your bike, you may enjoy glorious fragrances given off by flowers. Poets say that flowers gave flight to butterflies. Both delight your life. As you grow older, giving a rose to your loved one means, "I love you." Just for a moment, on your journey, you pedal through Milford, Ohio when you ride up on a bicycle at the edge of town exploding with flowers. A plaque reads, "Bikes in Bloom." You take a shot. You remount your bike to travel down Main Street, and to your delight, you instantly fall in love with dozens of bicycles blooming with flowers in front of every storefront. You smile, you laugh, you delight in the glorious beauty of bikes blooming with all the colors of the rainbow. You mutter to yourself, "Gosh, life doesn't get any better than this." You take a picture of yourself with the blooming bicycle and you laugh with the flowers.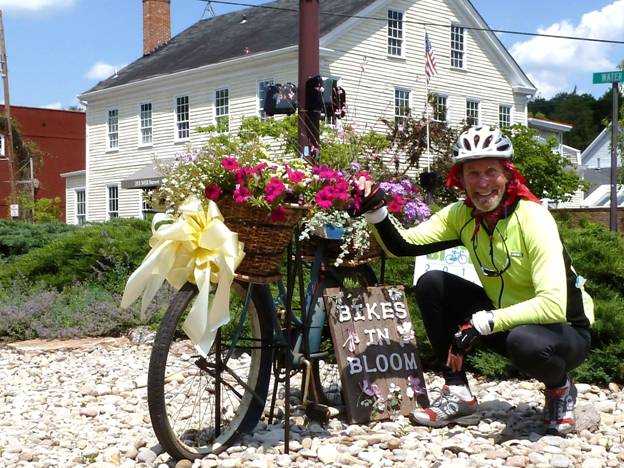 1950s Schwinn in bloom © 2012 Frosty Wooldridge
Frosty Wooldridge squatting beside a 1950, flared-handle bars, Schwinn bicycle featured as he pedaled into Milford, Ohio, a town on old Route 50 east of Cincinnati that harkens back to the 1880s and sooner. You will see 120 year old buildings, beautiful architecture and lots of bicyclists. The Bishop Bicycle Shop on Main Street offers repairs, new bikes and Bicycles in Bloom. All the stores feature a "Bikes in Bloom" to paint a colorful bicycle-flower parade for all to enjoy all summer.