Perfection attained - Greeting card
On an adventure: the day quits, the road ends, the light fades, your body wearies and the movement of life slows. When you walk the bikes down to the shoreline, this idyllic spot beckons your heart. A moored fishing dory, a quiet fjord and an enormous mountain urged you to linger here -- a place where time hovers and beauty overwhelms. Four bikes stacked against a fishing dory on a fjord in Norway equals a day well spent. As an intrepid traveler, you pull the packs, pitch your tent, crack out the food and build a campfire. A flickering flame appears with a wisp of smoke curling into the night air. From a nearby tree, a cuckoo bird repeats his plaintive cry, "Cuckoo, cuckoo, cuckoo..." Hot food simmers and steams upon the coals while you talk about the amazing events of the day. Nature offers a healing refrain of food, companionship, quietude and the simple pleasures of breathing life into your being. Above, the sky turns pink with a special alpen-glow across the snowfields beyond. You lean back on a rock: perfection attained.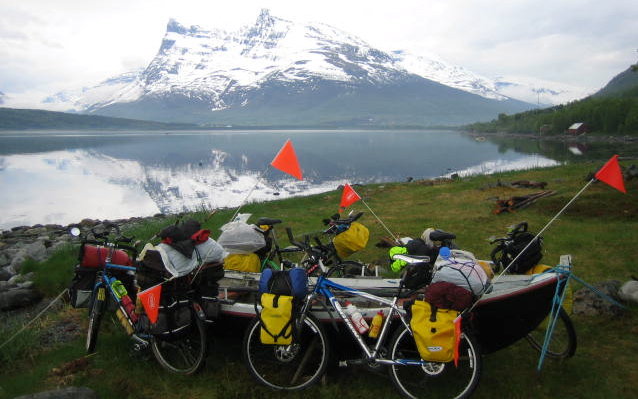 Touring bicycles stacked against a fishing dory on a fjord in Norway © 2012 Frosty Wooldridge
Bob, Gary, Denis and Frosty stacked their bikes against this fishing dory on a fjord on Lofotan Island, Norway. We crossed over the Arctic Circle on our way from Nord Cap, Norway to Athens, Greece. Each night, we discovered magnificent campsites like the one before you. Each night, we pitched our tents in the land of the mid-night sun. The omnipresent cuckoo bird kept our rapt attention with his endless song, "Cuckoo, cuckoo..." Dream ride, dream moment, dream adventure.