Plunging through deep powder - Greeting card
You ride up that mountain under an azure sky. Ahead of you, fellow skiers chat about blistering deep powder in the trees off Parsenn's Bowl. Behind you, the elegance of Parry's Peak at 13,392 feet rises dramatically along the Continental Divide. Did you make new friends on the lift? Did you hear a joke or two? Perhaps you stole a kiss from your girl or boyfriend. At the top, what delights await you as the deep snows beckon your body to a higher pleasure? How much like an eagle will you soar across sparkling powder snows? You jump off the lift and plant your pole into the first turn. In seconds, you feel an aspirin-white instant "high." Your body flies down the mountain at the perfect speed. It's been said ski bums trade security for face plants, the future for the moment. Considering how hollow a power job and an apartment in a big city has become, who can say the ski bum is not the wiser shareholder in his or her youth? Ah, your powder lunch awaits!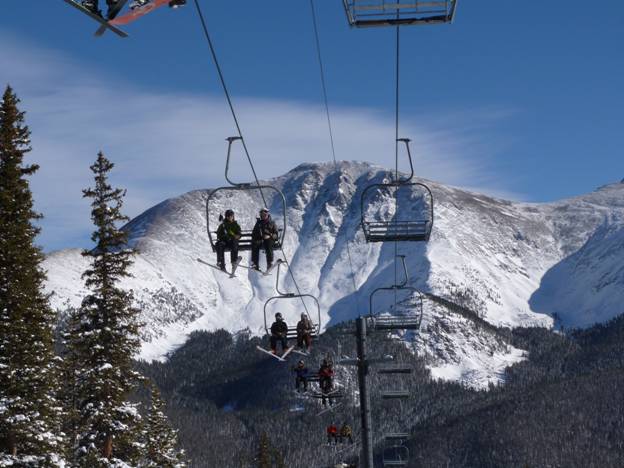 Riding Sunnyside Lift, Mary Jane, Winter Park, Colorado © 2012 Frosty Wooldridge
Skiers riding the Sunnyside Lift at Winter Park, Colorado. In the background, Parry's Peak at 13,292 feet provides a stunning visual along the Continental Divide. Skiers may choose big bumps to the left or easier cruises on Blue Bell. They can attack the deep powder in the trees or fly down the mountain to the Panoramic Express to take them to 12,065 feet at Parsenn's Bowl. Everything is down hill, 'cept what's up.