Ripping toward the top - Greeting card
Grip that rock. Hold on tight. Take a deep breath. What do climbers think about on their vertical journey? Deric takes a moment to contemplate, "Gravity is a myth; earth sucks". If gravity warps space-time, do grave thoughts warp your mind while climbing? Look at me—climbing is the only cure for gravity. As I hang here on the edge of a cliff, is this another re-run of "Friends"? Andy Cairn said, "An intimidating and salacious climb. The final pitch is so exposed, tricky, and continuously strenuous that it is impossible to even contact the rock at any point. Better than making passionate love on top of a Japanese Bullet Train. Superbly magnificent and grimly brilliant." Most climbers love freedom and climbing makes them feel free. No greater feeling can be achieved than your own first ascent up a mountain. Nothing but rock!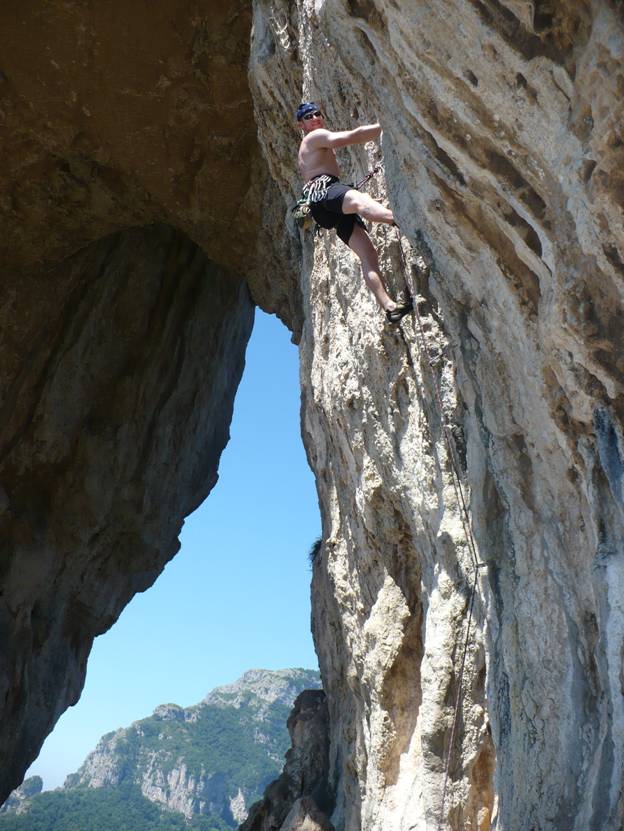 Rock climbing south of Positano, Italy © 2012 Frosty Wooldridge
Deric Skinner of Lakewood, Colorado makes his way up challenging rock wall in Positano, Italy. He has traveled and climbed all over the world including Italy. His exploits show raw energy in action with his symbiotic dance with vertical rock walls. Notice the bicycle chain tattoo on his left ankle. He rides a pretty mean bicycle when not climbing up a cliff.