Winter ascent of a 13er - Greeting card
When you gaze upward to the top of a 13,209 foot mountain peak in the middle of January, it may look pretty, even wondrous against an azure sky. But it requires true grit to face 31 below zero temperatures and sharp mountain inclines. You and your friends slap on your mountaineering skis, your packs, your avalanche beacons, food and water bottles. You look up to the peak. You see winds blowing at the summit. While your skis punch through 20 inches of powder, your heart pounds and your lungs heave. Minute by minute, hour by hour, you push through aspirin-white snows toward a destination with the sky. The wind blows, the snows swirl and your friends become one with the mountain. Five hours later, you reach the peak. You stab your skis into the ancient snows. The final steps provide you with a magical feeling only known to mountaineers. You meet the mystic within and attain regal nobility as you capture one of the crown jewels of the world. Your spirit soars while you discover perfection at your wingtips.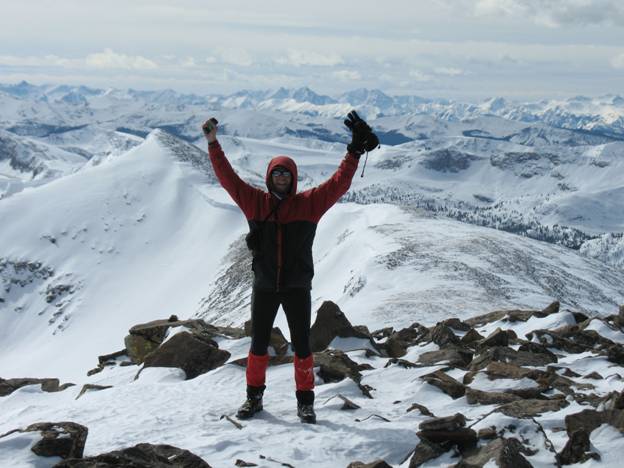 Winter ascent of Homestake Peak at 13,209 feet, Mt. Holy Cross region, Colorado © 2012 Frosty Wooldridge
Frosty standing on top of Homestake Peak at 13,209 feet, January 27th, 31 below zero, 40 mph winds in the Mount Holy Cross area of the Rocky Mountains. Each year, thousands of back country skiers summit peaks all over America in their quests to feel the triumph and the passion of making a winter ascent. After the cheers, pictures and back slapping, they ski down through deep powder bliss and back to a hut, fireplace, hot chocolate and stories to tell. God, thank you for mountains, skis and friends—not to mention hot chocolate.