Canoe adventure at 9,000 feet - Greeting card
On a canoe adventure, you never know what might pop up in front of, beside or behind you. A gaggle of Canada geese takes flight. A loon flies over your head. A beaver slaps the water with his tail as he dives to avoid you. A hummingbird hovers in front of your face. A dragonfly lands on your hand. As the eternal waters of a lake or river curl behind the stroke of your paddle, canoe travel purifies your spirit, delights your senses and leaves you with a smile upon your soul. You become a child of nature. A lake magnetizes your imagination. It creates your dreams. You could canoe the Mississippi River. Meet the ghosts of Tom Sawyer and Huckleberry Finn. The waters reflect your paddle, your arms, your face and your essence. No rushing in a canoe, but the flow of water energizes every cell in your body to the rhythms and music of your heartbeat. Your wooden paddle feels good in your hand and to your spirit.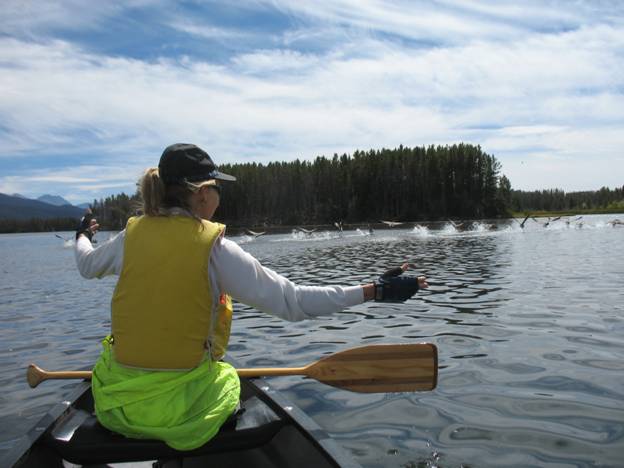 Canoeist excited about a gaggle of Canada geese taking off in front of her canoe, Shadow Mountain Lake, Colorado © 2012 Frosty Wooldridge
Canoeist thrilled at the sudden flight of a gaggle of geese on Shadow Mountain Lake at 9,000 feet in the Rocky Mountains near Grand Lake, Colorado. Additionally, canoeists enjoy 8 foot wide wing-spanned white pelicans, beautiful osprey, beavers, musk rats, diving ducks and moose along the shoreline. At night, while camping, meteor showers streak across the ink black of space. Have you ever sat by a campfire when the wood has fallen low; and the embers start to whiten around the fire's crimson glow...